New Posters For Marvel's Black Widow Released!
Scarlett Johansson, Florence Pugh, David Harbour, and Rachel Weisz loom large on the Dolby Cinema and Real D Posters for Black Widow
By this time next month, the long-delayed standalone Marvel Studios film, 'Black Widow' will be playing in theatres across the world and on Disney+ Premier Access. It has taken the film fourteen months longer than expected to hit screens, thanks to Covid. Originally set to open in May of last year, the film will be released on July 9th. Ahead of the film finally opening around the world, two new posters for the film have been released:
DOLBY CINEMA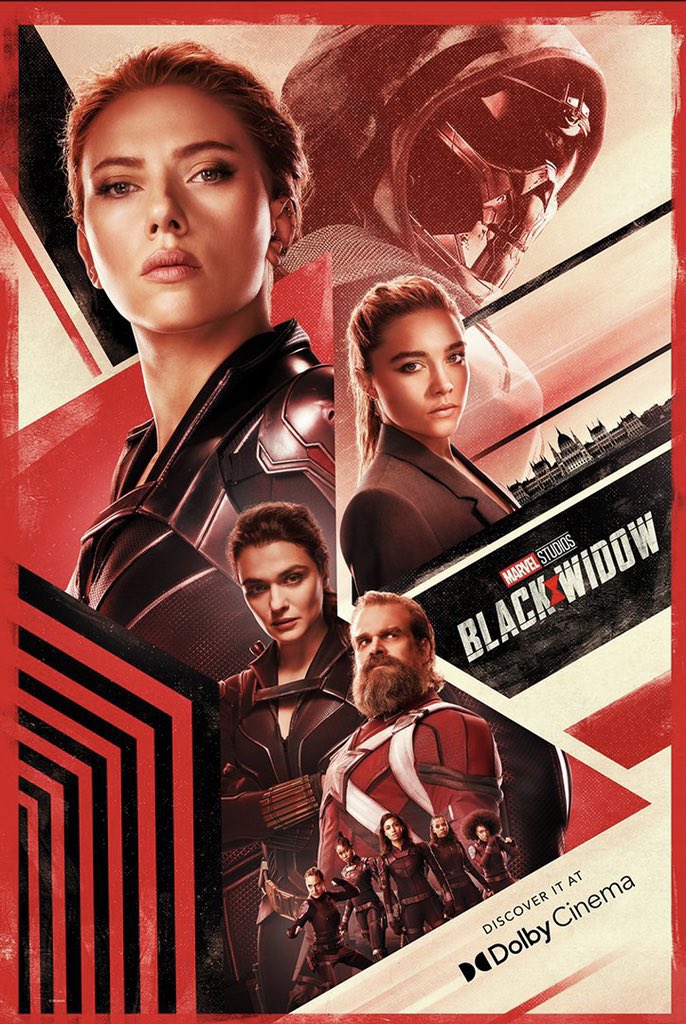 REAL D 3D
JOHANSSON'S SWANSONG! PUGH'S DEBUT!
The film will be the swansong for Scarlett Johansson as the character. After playing Natasha Romanoff ever since 'Iron Man 2' until the character's demise during 'Avengers: Endgame', Miss Johansson has been one of the leading lights in the MCU. Although you can never say a character is truly dead in the comic book world, She is handing over the baton to actress Florence Pugh. Miss Pugh is playing the character of Yelena Belova, a fellow 'Widow' in the film and the one who will take over the mantle after this. She will play the character in the next phase of the MCU cinematic world.
LET'S GO | TICKETS AVAILABLE CLIP!
That's not all. A new exclusive action-packed clip has been unveiled to celebrate the movies' tickets finally going on sale.
ALSO STARRING!
In addition to the two female leads, David Harbour will appear as Alexei Shostakov/Red Guardian, a father figure to both Romanoff and Belova. Ray Winstone as Dreykov, the head of the Red Room, the top-secret Russian training program to turn young women into 'Black Widows'. Rachel Weisz is playing Melina Vostokoff, another Black Widow and the mother figure to Romanoff and Belova. And William Hurt returns as Thaddeus Ross, the former U.S Army general who pursued the Hulk and is now the United States Secretary Of State. And not forgetting the cameo appearance, one last time, of Robert Downey Jr in his role as Tony Stark/ Iron Man.
'Black Widow' hits theatres and Disney+ Premier Access from July 9th.
Will you be checking out Scarlett Johansson's swansong when it opens? Have you been waiting for it to debut? And how will you be seeing the film? Drop us a message and let us know!
Source: Marvel Entertainment
Carl Roberts is the News Editor for The Future of the Force. Aside from being our horror genre aficionado, he is also passionate about Star Wars, Marvel, DC, and the Indiana Jones movies. Follow him on Twitter where he uses the force frequently!