Entertainment Weekly unveils an exclusive look at the small-screen Chucky horror show!
Back in 1988, the original 'Child's Play' film was released. I enjoyed it but didn't think the franchise would last as long as it has. Thankfully, I was wrong. Six films and one reboot later, the character of Chucky is heading to the small screen. And thanks to Entertainment Weekly, we have been given our first look at the show. As well as the official release date. The killer doll will be making his murderous debut on SYFY and the USA network at 10 pm on October the 12th.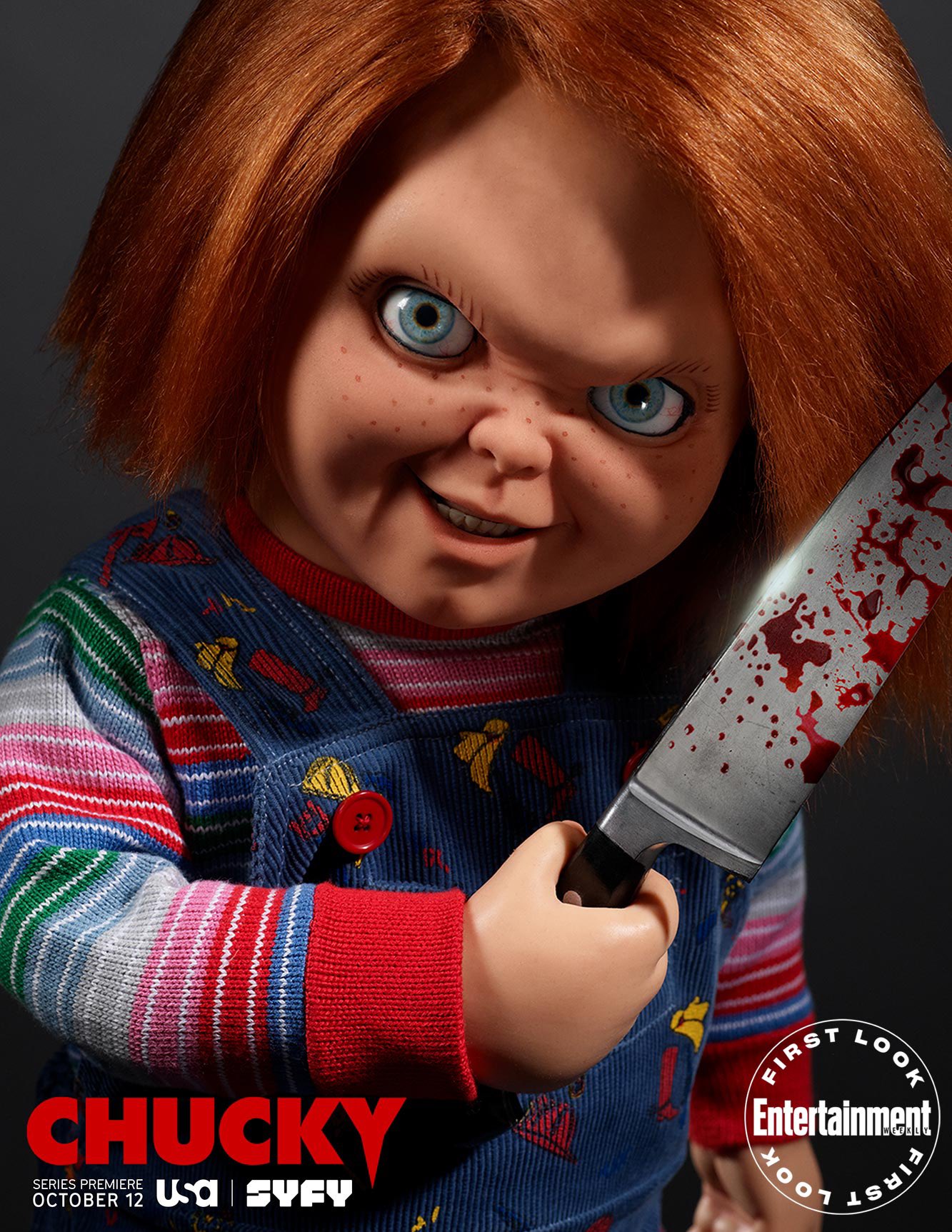 THE PREMISE!
The show is set in a small idyllic town somewhere in America. A vintage 'Good Guy' doll manages to turn up at a yard sale. He is bought by a young teen (Zachary Arthur) who is the main character. He is a 14-year -old boy who is gay and is suffering from bullying and is aimless after the death of his mother. The character is a young artist who makes sculptures out of doll parts which draws him towards the 'Good Guy' doll. Of course, the doll is Chucky and the teen has much more on his hands than he realized. Soon the town is plagued by a series of grisly murders. Events that threaten to expose the secrets and hypocrisies of the town and some of its residents.
THE CAST!
Alongside Zackary Arthur, the show features newcomers to the franchise Lexa Doig, and Devon Sawa. Returning to the franchise once more are Jennifer Tilly, Fiona Dourif. Alex Vincent, and Christine Elise. But of course, the main returnee to the show is the legendary Brad Dourif. Dourif once again lends his voice to Chucky himself. That for me is the main selling point of the show. I loved Mark Hamill's vocal talents in the recent remake of the first film. But nobody can match Brad Dourif as the voice of the murderous toy. In fact, Brad Dourif IS Chucky.  The franchise creator Don Mancini is onboard the show as its showrunner. He will be bringing back a sense of how the franchise made its name. Adding to the fun, the new Chucky doll is modeled on the version that was seen in the 1990 sequel 'Child's Play 2'.
THE NEW TEASER!
'Chucky' starts stalking from October 12th. There is currently no news on transmission dates outside the United States.
Source: Entertainment Weekly/YouTube
Feel the Force on Social Media.
Carl Roberts is the News Editor of The Future of the Force. Aside from being our horror genre aficionado, he is also passionate about Star Wars, Marvel, DC, and the Indiana Jones movies. Follow him on Twitter where he uses the force frequently!